Sitting here in Croatia, I thought that I might give you a small look in my personal workflow for a paperless home.
I started this workflow about two years ago and it works great (for me). I built a house, bought a flat and sold both using this workflow for all my documents, beside the annoying stuff like taxes, insurances and so on. I have basically only the documents at in paper, that I need to keep by law, everything else gets shredded.
What do I use?
It's that simple. I tried out many things. Scanners like my Brother MFC, Epson DS-360W and so on. I tried my workflow with FTP Shares, OCR Software and Auto-Rename-Software running on servers and also solutions like paperless-ng. But it was all not working very well (for me).
At the end, it came down to the single question: What's the easiest way?
How does it work?
I use the ScannerPro App to scan all documents that pass my Snailmail-Mailbox. From there, they get Auto-Uploaded to Evernote, where an OCR is automatically processed for all documents. Once a week I take a look in my INBOX-Folder and rename all Notes / Documents to meaningful names and tag them (like: tax, flat-XY, insurance, bank, ...)
Using that procedure, all my analog documents are centralised in Evernote and I can do a full text search on them from every device I own.
All my digtial documents are also in Evernote. I simply forward them to my "Evernote-Email-Address" and at the end, everything is in one place.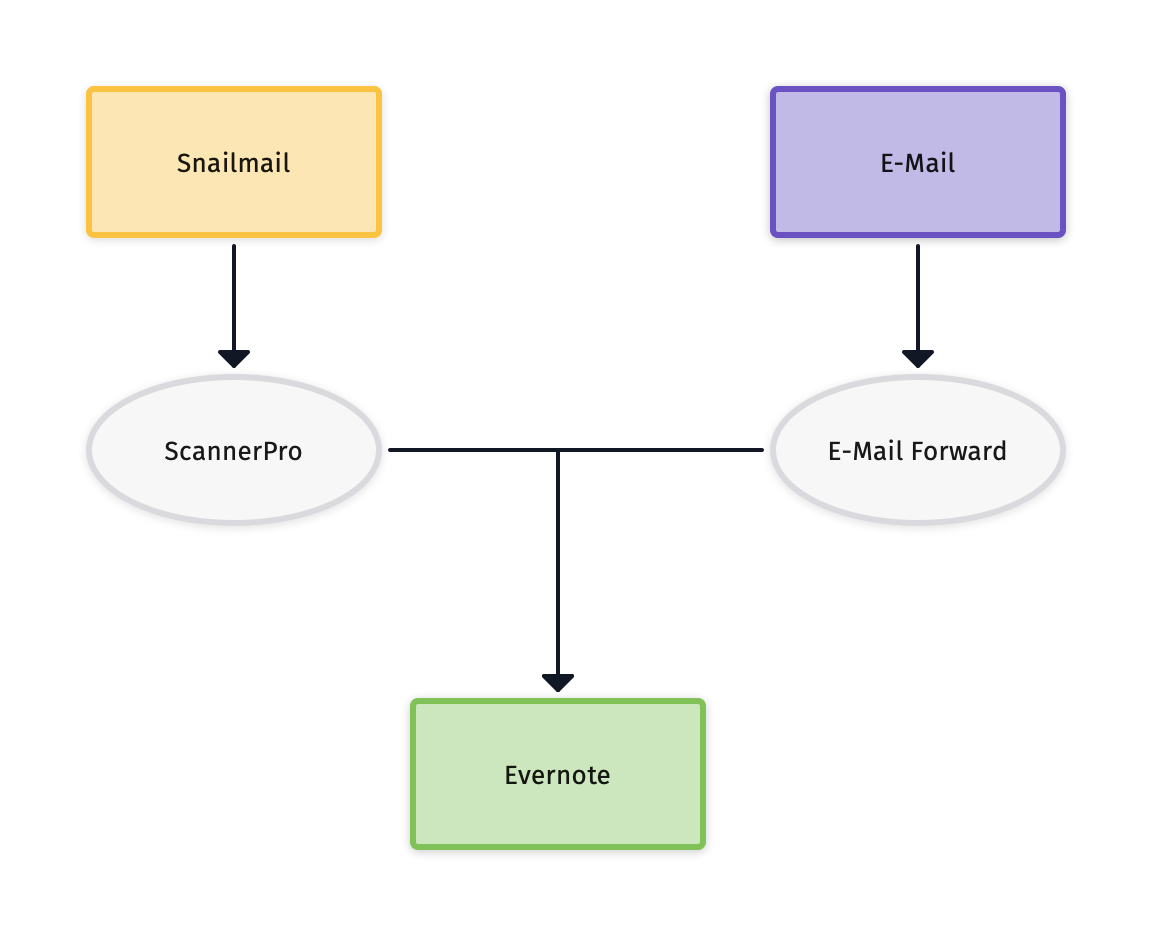 Scanner Pro Configuration
I use the Automatic Upload and ORC features of Scanner Pro to achive this easy workflow.
Workflow
My workflow is this easy:
I get a new document on paper
I scan it using Scanner Pro
I rename & tag it in Evernote
Done.
Here are two examples how the App works.
Android?
I know, I'm only talking about iOS here. But there are also good PDF scanner apps for Android around that have the possibility to upload to Evernote.
Conclusion
It does not always has to be complicated. Sometimes the easiest solution is the best solution. I was very sceptic in the beginning, but for me this works just great. I can find every document with a short keyword search due to the fulltext search and don't have unnecessary papers at home filling up a big cabinet.